UMBC Alumni Virtual Book Club
Book Club Information
UMBC has partnered with PBC Guru to bring you the UMBC Alumni Virtual Book Club.

Join today to connect with your fellow UMBC alumni, faculty and staff. Enjoy reading, lifelong learning, personal growth, novels and other books!
The book club connects through a private forum where all participants are invited to discuss the current book, share ideas and network with each other.

The book club will read and discuss one book every two months, giving you plenty of time for each book.
All members will vote on the next book from a variety of options, and the chosen book will be available for sale here at the UMBC Bookstore!
Copies of the current book (and past books) are available here.
Use the promo code "bookclub" at checkout to receive free shipping!

For more information, please visit the UMBC Alumni Association page or the PBC online forum.
Current Book
March to May Selection:

The Midnight Library: A Novel by Matt Haig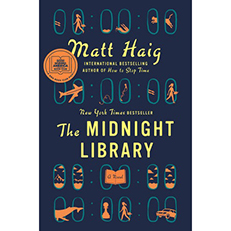 Somewhere out beyond the edge of the universe there is a library that contains an infinite number of books, each one the story of another reality. One tells the story of your life as it is, along with another book for the other life you could have lived if you had made a different choice at any point in your life. While we all wonder how our lives might have been, what if you had the chance to go to the library and see for yourself? Would any of these other lives truly be better?

In The Midnight Library, Matt Haig's enchanting new novel, Nora Seed finds herself faced with this decision. Faced with the possibility of changing her life for a new one, following a different career, undoing old breakups, realizing her dreams of becoming a glaciologist; she must search within herself as she travels through the Midnight Library to decide what is truly fulfilling in life, and what makes it worth living in the first place.

Hardcover: $26.00




2021 Books
January to March Selection:

The Vanishing Half by Brit Bennett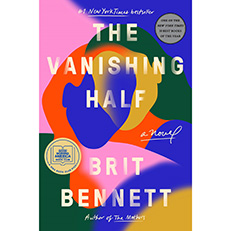 The Vignes twin sisters will always be identical. But after growing up together in a small, southern black community and running away at age sixteen, it's not just the shape of their daily lives that is different as adults, it's everything: their families, their communities, their racial identities. Many years later, one sister lives with her black daughter in the same southern town she once tried to escape. The other secretly passes for white, and her white husband knows nothing of her past. Still, even separated by so many miles and just as many lies, the fates of the twins remain intertwined.

What will happen to the next generation, when their own daughters' storylines intersect?

Hardcover: $22.95






2020 Books
October to December Selection:

On Earth We're Briefly Gorgeous by Ocean Vuong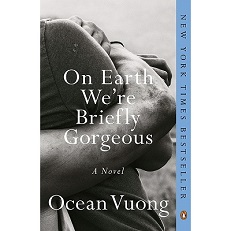 On Earth We're Briefly Gorgeous is a letter from a son to a mother who cannot read. Written when the speaker, Little Dog, is in his late twenties, the letter unearths a family's history that began before he was born — a history whose epicenter is rooted in Vietnam — and serves as a doorway into parts of his life his mother has never known, all of it leading to an unforgettable revelation. At once a witness to the fraught yet undeniable love between a single mother and her son, it is also a brutally honest exploration of race, class, and masculinity. Asking questions central to our American moment, immersed as we are in addiction, violence, and trauma, but undergirded by compassion and tenderness, On Earth We're Briefly Gorgeous is as much about the power of telling one's own story as it is about the obliterating silence of not being heard.

Paperback: $17.00






August to October Selection:

Talking to Strangers: What We Should Know About the People We Don't Know by Malcolm Gladwell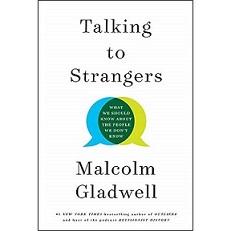 Malcolm Gladwell offers a powerful examination of our interactions with strangers — and why they often go wrong.

How did Fidel Castro fool the CIA for a generation? Why did Neville Chamberlain think he could trust Adolf Hitler? Why are campus sexual assaults on the rise? Do television sitcoms teach us something about the way we relate to each other that isn't true?

Something is very wrong, Gladwell argues, with the tools and strategies we use to make sense of people we don't know. And because we don't know how to talk to strangers, we are inviting conflict and misunderstanding in ways that have a profound effect on our lives and our world.

Hardcover: $30.00





Summer 2020 Selections:

Eleanor Oliphant Is Completely Fine by Gail Honeyman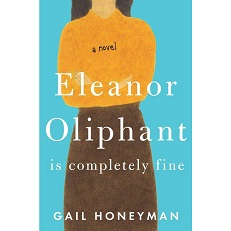 No one's ever told Eleanor that life should be better than fine.
Meet Eleanor Oliphant: she struggles with appropriate social skills and tends to say exactly what she's thinking. Nothing is missing in her carefully timetabled life of avoiding unnecessary human contact, where weekends are punctuated by frozen pizza, vodka, and phone chats with Mummy.
But everything changes when Eleanor meets Raymond, the bumbling and deeply unhygienic IT guy from her office. When she and Raymond together save Sammy, an elderly gentleman who has fallen, the three rescue one another from the lives of isolation that they had been living. Ultimately, it is Raymond's big heart that will help Eleanor find the way to repair her own profoundly damaged one. If she does, she'll learn that she, too, is capable of finding friendship—and even love—after all.
Smart, warm, uplifting, Eleanor Oliphant Is Completely Fine is the story of an out-of-the-ordinary heroine whose deadpan weirdness and unconscious wit make for an irresistible journey as she realizes the only way to survive is to open your heart.

Paperback: $8.99


The Boys in the Boat: Nine Americans and Their Epic Quest for Gold at the 1936 Berlin Olympics by Daniel James Brown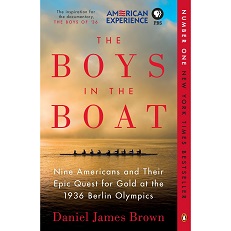 The Boys in the Boat celebrates the 1936 U.S. men's Olympic eight-oar rowing team—nine working class boys who stormed the rowing world, transformed the sport, and galvanized the attention of millions of Americans.
Against the grim backdrop of the Great Depression, they reaffirmed the American notion that merit, in the end, outweighs birthright. They reminded the country of what can be done when everyone quite literally pulls together. And they provided hope that in the titanic struggle that lay just ahead, the ruthless might of the Nazis would not prevail over American grit, determination, and optimism.
And even as it chronicles the boys' collective achievement, The Boys in the Boat is also the heartwarming story of one young man in particular. Cast aside by his family at an early age, abandoned and left to fend for himself, Joe Rantz rows not just for glory, but to regain his shattered self-regard, to dare again to trust in others, and to find his way back to a place he can call home.

Paperback: $15.99




The Happiness Project: Or Why I Spent a Year Trying to Sing in the Morning, Clean My Closets, Fight Right, Read Aristotle, and Generally Have More Fun by Gretchen Rubin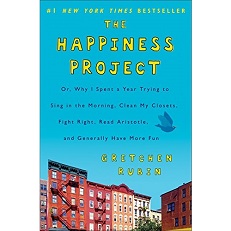 One rainy afternoon, while riding a city bus, Gretchen Rubin asked herself, "What do I want from life, anyway?" She answered, "I want to be happy"—yet she spent no time thinking about her happiness. In a flash, she decided to dedicate a year to a happiness project. The result? One of the most thoughtful and engaging works on happiness to have emerged from the recent explosion of interest in the subject.
In this lively and compelling account, Rubin chronicles her adventures during the twelve months she spent test-driving the wisdom of the ages, current scientific research, and lessons from popular culture about how to be happier. Among other things, she found that novelty and challenge are powerful sources of happiness; that money can help buy happiness, when spent wisely; that outer order contributes to inner calm; and that the very smallest of changes can make the biggest difference.

Paperback: $15.99





March to May Book Selection:

Educated: A Memoir by Tara Westover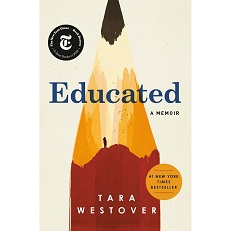 Tara Westover was seventeen the first time she set foot in a classroom. Born to survivalists in the mountains of Idaho, her family was so isolated from mainstream society that there was no one to ensure the children received an education, and no one to intervene when an older brother became violent. When another brother got himself into college and came back with news of the world beyond the mountain, Tara decided to try a new kind of life. Her quest for knowledge transformed her, taking her over oceans and across continents, to Harvard and to Cambridge University. Only then would she wonder if she'd traveled too far, if there was still a way home. Educated is an account of the struggle for self-invention. It is a tale of fierce family loyalty, and of the grief that comes of severing one's closest ties. With the acute insight that distinguishes all great writers, Westover has crafted a universal coming-of-age story that gets to the heart of what an education is and what it offers; the perspective to see one's life through new eyes, and the will to change it.

Hardcover: $28.00





February to March Book Selection:

The Power of Habit: Why We Do What We Do in Life and Business by Charles Duhigg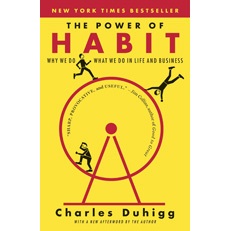 In The Power of Habit, award-winning business reporter Charles Duhigg takes us to the thrilling edge of scientific discoveries that explain why habits exist and how they can be changed. Distilling vast amounts of information into engrossing narratives that take us from the boardrooms of Procter & Gamble to the sidelines of the NFL to the front lines of the civil rights movement, Duhigg presents a whole new understanding of human nature and its potential. At its core, The Power of Habit contains an exhilarating argument: The key to exercising regularly, losing weight, being more productive, and achieving success is understanding how habits work. As Duhigg shows, by harnessing this new science, we can transform our businesses, our communities, and our lives.

Paperback: $17.00